SINGLE INCISION STRESS URINARY INCOTINENCE TREATMENT
Ophira is a single incision mini sling developed for the treatment of female urinary incontinence. The Mini Sling with its two anchors on each side, is fixated to both internal obturator muscles and allows to create support underneath the urethra while using only one incision for the implantation1.
CONSISTENT CLINICAL RESULTS
Clinical evidence obtained with Ophira Mini Sling System is consistent in different centers around the world. Ophira offers a safe and efficient method for the treatment of female stress urinary incontinence2. Compared to transobturator and retropubic suburethral slings, Ophira shows no inferiority regarding success rate at mid term follow-up3,4,5,6,7. The major advantage is the possibility of performing this procedure under local anaesthesia on an ambulatory basis with less blood loss5. Its unique fixation system results in immediate high efficacy 8.
Ophira Instructions for Use 2022
Huebner J. et. Al: Gynecology, Chemnitz, Germany. Experience with Vaginal Mini-Sling Ophira: First Interim Analysis.58. Kongress der Deutschen Gesellschaft für Gynäkologie und Geburtshilfe. Munich. Abstract #PO-Gyn 02.12. (2010)
Smith P.P. et. Al: Comparison of single-incision mid-urethral tape (OphiraTM) and transobturator tape (ObtryxTM) sub-urethral sling procedures for female stress urinary incontinence. Journal of Clinical Medicine and Research. Vol. 5(4), pp. 53-57, June, 2013. DOI 10.5897/JCMR12.019. (2013)
Arunkalaivanan et. Al: Single-Incision Midurethral Tape (OphiraTM) Vs Transobturator Tape (ObtryxTM): Prospective Comparative Study – 2 Year Follow-Up. 44th ICS Annual Meeting 2014. Rio de Janeiro, Brazil. Abstract #245. (2014)
Enzelsberger H. et. Al: Ophira (Minisling) versus Monarc (Tot) - A Prospective Randomized Study for the Treatment of Female Stress Urinary Incontinence at a follow-up of 20 months. 36th Annual Meeting of the International Urogynecological Association. Lisbon, Portugal. Abstract #281. (2011)
Ahn J et. Al: Comparison of Single-Incision Mid-Urethral Tape (Ophira) and Transobturator Tape (Safyre) suburethral sling procedures for female stress urinary incontinence. 44th ICS Annual Meeting 2014. Rio de Janeiro, Brazil. Abstract #263. (2014)
Mehmet Bilgehan Yuksel et. Al: The comparison of short term results of transobturatour tape and single incision midurethral sling procedures. Int J Women's Health Reproduction Sci Vol. 1, No. 3, Autumn 201. (2013
Pushkar D. et. Al: Preliminary results of treatment of stress urinary incontinence with Ophira Mini-Sling. ICS/IUGA Meeting (Toronto, Canada) . Abstract #800. (2010)
OPHIRA MINISLING IMPLANT
Ophira, with its Type 1 polypropylene mesh and its thermosealed edges, offers an excellent balance of the main biomechanical requirements:
tissue integration and low elasticity.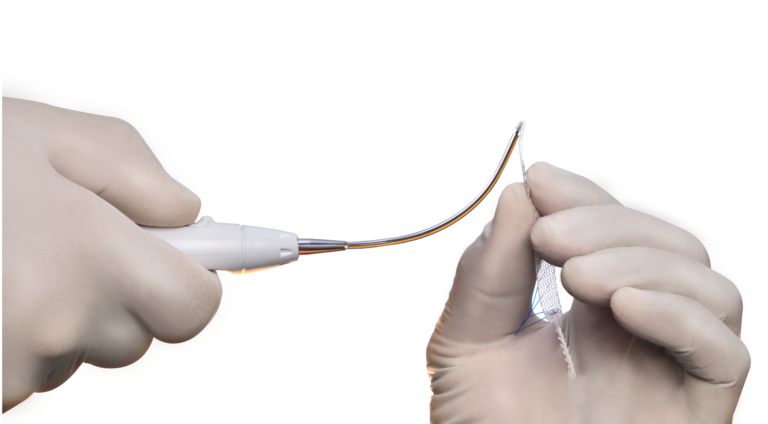 OPHIRA FIXATION SYSTEM
Ophira's fixation system has an unique and innovative design with multiple fixation points along its self-fixating arms. It offers a high pull out force and reliability in its primary fixation. The Ophira Fixation System offers a safe and simple way to achieve a correct and precise sling placement.
OPHIRA INSERTION GUIDE
The Retractable Insertion Guide is designed to provide control and easy handling that allows a precise and minimally invasive implantation technique. The anti-rotational assembly system on the tip of the retractable insertion guide goes along with the anti-rotational connector of the fixation arm and ensures therefore that the minisling can be implanted without positioning complications. With its 2.2 mm diameter and anatomical curvature the RIG enables the surgeon to implant the fixation arms safe and efficient in the right anatomical direction, while having a very short blind time.
OPHIRA IN DAILY CLINICAL PRACTICE
Intention for use

15.000+

Ophira Minislings implanted
CONTRAIN­DICATIONS &
PRECAUTIONS
OPHIRA must not be used in PATIENTS:
who have soft tissues pathologies in the site intended for implant placement
during pregnancy,
with known sensitivity or allergy to polypropylene products,
with pre-existing conditions that pose an unacceptable surgical risk
For further precautions and warnings, we refer to our Instruction for Use
ORDERING INFORMATION
ORDER NUMBER: KIT-OT-01