TWO WAY TRANSOBTURATOR SLINGS SYSTEM TO TREAT FEMALE STRESS URINARY INCOTINENCE
STEEMA DUAL TOT is a transobturator sling system, developed for the treatment of female urinary incontinence. The transvaginal sling system, equipped with dilators on each side, the Teflon® sheath and the positioning tab, brings all features which helping the surgeon to perform an easy, secure and gentle transobturator implantation from direction of their choice. Once the implantation is completed, only the sling made from polypropylene type 1 is left in the patient to give support to the urethra and therefore restore continence. Right after the implantation, before tissue ingrowth, the sling anchors itself to the tissue by using a Velcro®-like effect and gets along without additional fixation.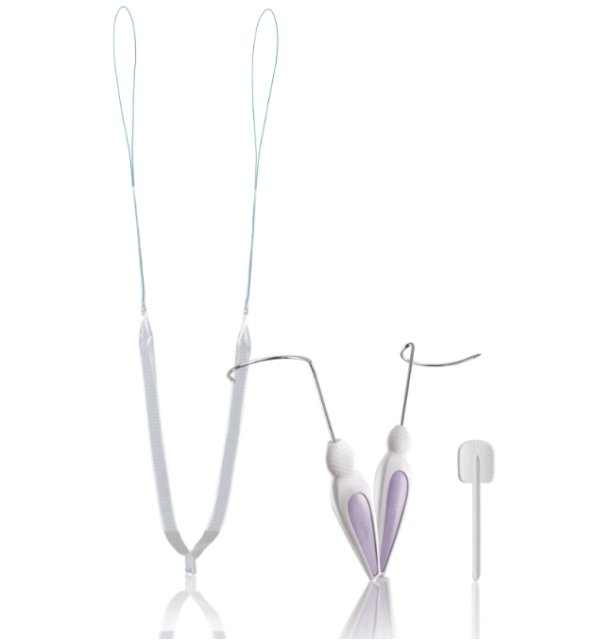 STEEMA DUAL TOT SLING
STEEMA DUAL TOT SLING is a Premium Transobturator Sling, designed to provide surgeons with a better and safer procedure. Beside the features which supports the surgeon within the implantation, the sling made from polypropylene typ 1 with its thermosealed edges, offers an excellent balance of the main biomechanical requirements, as tissue integration and low elasticity, to enable the restorage of continence.
STEEMA DUAL TOT NEEDLES

The STEEMA DUAL TOT Needles can be used for the implantation either in direction IN-OUT or OUT-IN. The Needles together with the urethral protector and the sling, which can be easily attached to the needles by hooking the green sutures into the "t-shaped" eyelets, forming a versatile kit toperform a smooth and gentle implantation.

RETROPUBIC SLING SYSTEM COMPARISON

| | TVT-0 (Gyncare) | Obtryx II (Boston Scientific) | STEEMA (Promedon) |
| --- | --- | --- | --- |
| Mesh Thickness | 0.63 mm1 | 0.66 mm1 | 0.5 mm3 |
| Fiber size (diameter) | 0.15 mm1 | 0.15 mm1 | 0.14 mm3 |
| Weight (g/m2) | 1001 | 1001 | 903 |
| Load at failure | 70 N1 | 70 N1 | 90 N3 |
| Sling delivery force | 1.11 kg4 | 0.73 kg2 | 0.77 kg4 |
| Tunneling force | 1.654 Nm | 1.164 Nm (Halo needle) | 1.154 Nm |
STEEMA DUAL TOT DAILY CLINICAL PRACTICE

STEEMA Dual TOT has been designed for the treatment of female stress urinary incontinence
CONTRAIN­DICATIONS &
PRECAUTIONS
Steema should not be prescribed if there is any type of infection, especially genital or related to the urinary tract.
Steema should not be used in patients who:
are pregnant
are sensitive or allergic to polypropylene products,
have pre-existing pathologies or conditions posing an unacceptable surgical risk,
have soft tissues pathologies in the site intended for implant placement, or
have pathologies or other conditions that compromise wound healing.
For further precautions and warnings, we refer to our Instruction for Use
ORDERING INFORMATION
ORDER NUMBER: KIT-STEEMA-T PLUS